2016 Nissan GT-R
The 2016 Nissan GT-R. One Man. One Engine. Handcrafted -- From start to finish, each GT-R engine is handcrafted by its own master engine-builder in a climate-controlled ''clean room.'' Each twin-turbo V6 is precisely assembled from lightweight, highly durable aluminum and magnesium parts. It takes the exacting standards of the plant's most talented and devoted engine builders to produce the engine that has redefined what a supercar can be.
Number of Available TRIMS: 4
contact dealer
for this model
contact dealer
for this model
2016 Nissan GT-R
DESIGN / HIGHLIGHTS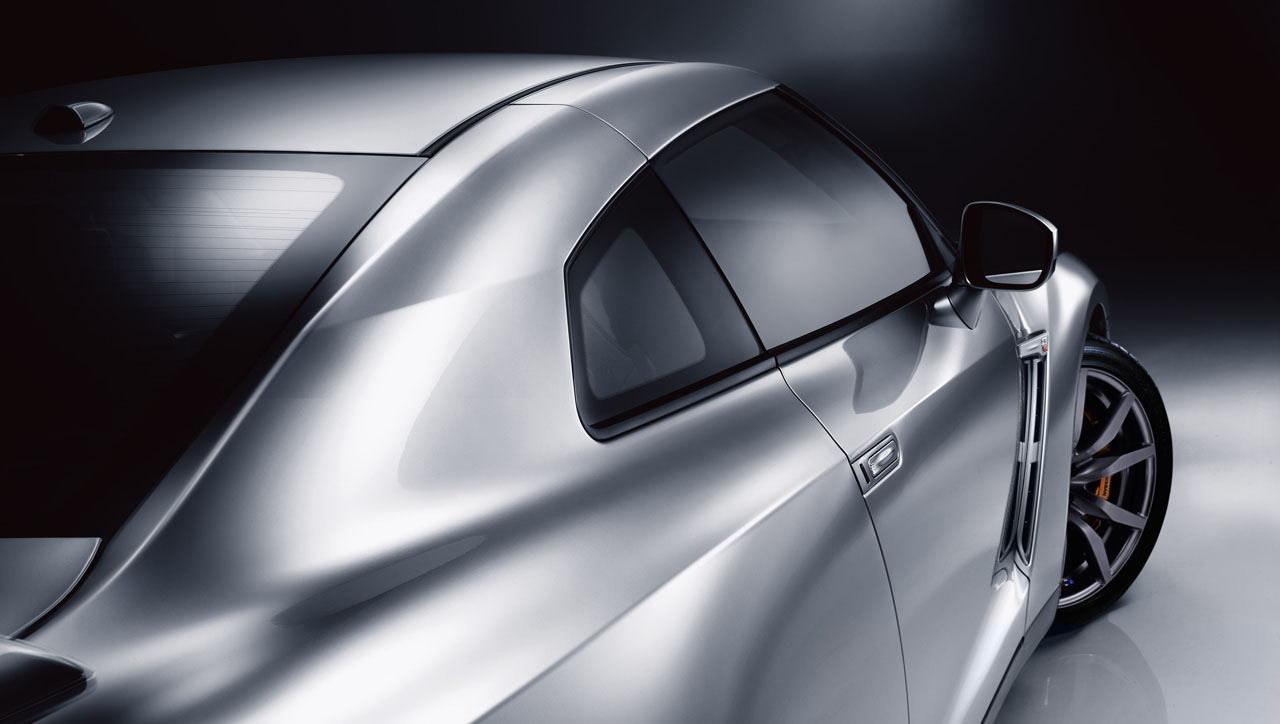 For 2016, the Nissan GT-R defends its position as one of the most striking supercars in the market today – with the addition of new 20-spoke wheels for the GT-R Premium and a 45th Anniversary Gold Edition featuring a special exterior paint color (limited availability). The 2016 GT-R is again offered in three fully equipped trim levels: GT-R Premium, GT-R Black Edition and the potent GT-R NISMO (limited availability). The 2016 Nissan GT-R also carries over the significant enhancements from the last model year (2015), including:

A recalibrated suspension for a more sophisticated ride and enhanced road holding

Enhanced exterior appearance with LED headlight technology and distinctive front and rear designs

A more premium interior feel with enhanced appointments and improved quietness, including a standard Bose® Active Noise Cancellation system (except GT-R NISMO), carbon-style instrument cluster
2016 Nissan GT-R
EXTERIOR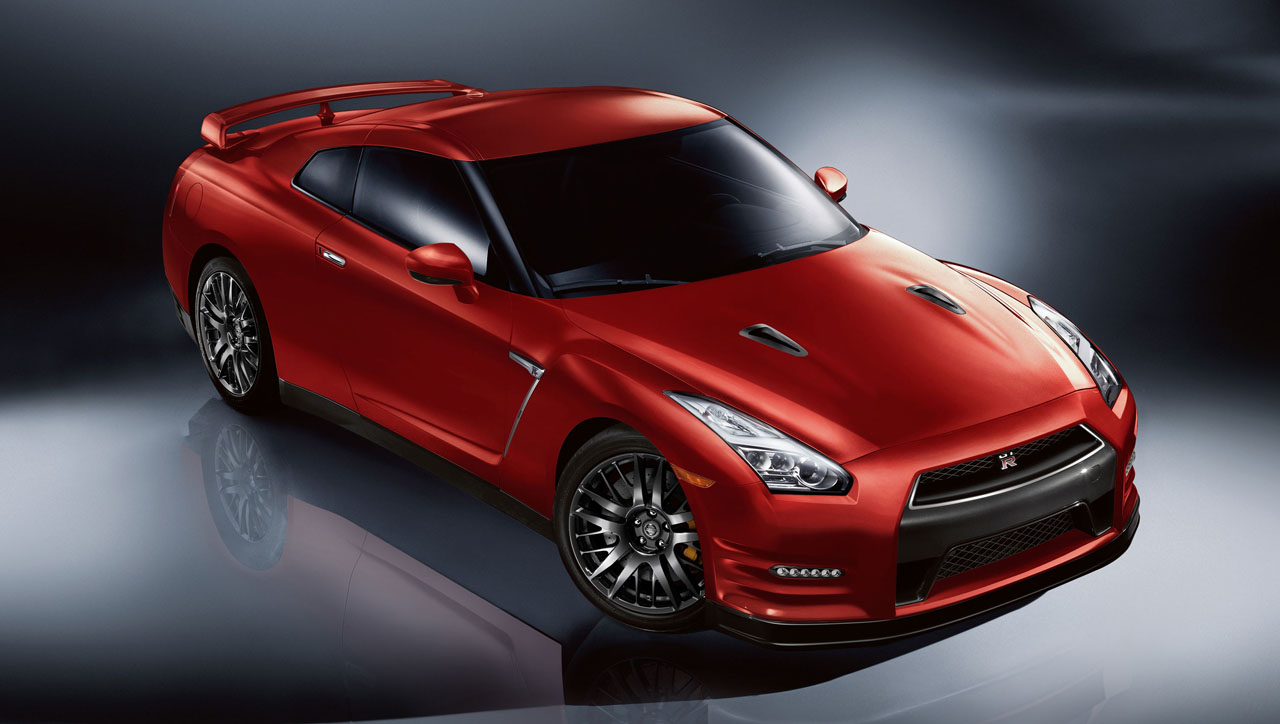 PERFORMANCE ARTIST

Multi-LED Headlights with Adaptive Front lighting System:
Efficient, daylight-spectrum, multi-LED headlights create a distinctive "lightning" motif. But these four LED units do more than look the part. They adjust their illumination pattern based on vehicle speed, and cast a super-wide beam to enhance visibility, especially when cornering.

Hybrid Body Structure:
To provide a rigid platform, Nissan engineers pioneered a unique hybrid body using high-strength steel, die-cast aluminum, carbon fiber and composite materials.

Precision Built:
During assembly, ''jigs'' are used to hold body panels and components precisely in place. Vibration testing, laser measurements, and comprehensive inspections by experienced specialists are performed to ensure long-term functionality and to maintain the highest levels of accuracy and precision during assembly.

Hand-polished Finish:
Unique to the optional Super Silver paint color is its extensive hand-polishing between each coat - performed under three different light sources, to reveal any imperfections.

Aerodynamics:
That big spoiler and all those scoops and vents aren't just there to look cool— they're all doing something. The spoiler is creating downforce. Those ridges on the air dam and vents on the back bumper are managing airflow towards the rear. The vents behind the front fenders are cooling the brakes and creating more downforce, and the scoops on the hood and the signature grille are cooling the engine.

Underbody Aerodynamics:
The average car has exposed working gear under the car, where wind whips around, creating lift, and slowing you down. The GT-R®, of course, isn't an average car. Its underbody is virtually covered by composite panels, giving it a flat, aerodynamic surface.

Underbody Airflow:
At the front of the car, the flat underbody is accelerating the air and channeling it over the brakes, cooling them down. At the back, a carbon fiber diffuser takes that accelerated air and slows it down, creating a vacuum effect that helps the GT-R® stick to the road, or the track.
2016 Nissan GT-R
INTERIOR
COMPLETELY CAPTIVATING, EVEN AT REST

Leather-appointed seats:
Leather-appointed front seats are undoubtedly built for performance. These bolstered sport seats help keep you in place, while cutouts in the driver's seat cushion help facilitate leg movement. Rev up the interior with a choice between Red Amber or Ivory with the Premium Interior Package featuring hand stitched semi-aniline seats.

Choices:
The 2016 GT-R includes a choice of three interior color schemes, including standard Black and a Premium Interior Package, with semi-aniline leather appointments with hand-stitching on the front seats, matching accents on the instrument panel, steering wheel, door trim, armrests and shift knob. The Premium Interior Package is available on Premium model GT-Rs only in either Ivory or Red Amber. The GT-R Black Edition adds a unique red and black interior color treatment and Recaro leather-appointed seats, along with red steering wheel accents.
2016 Nissan GT-R
MECHANICAL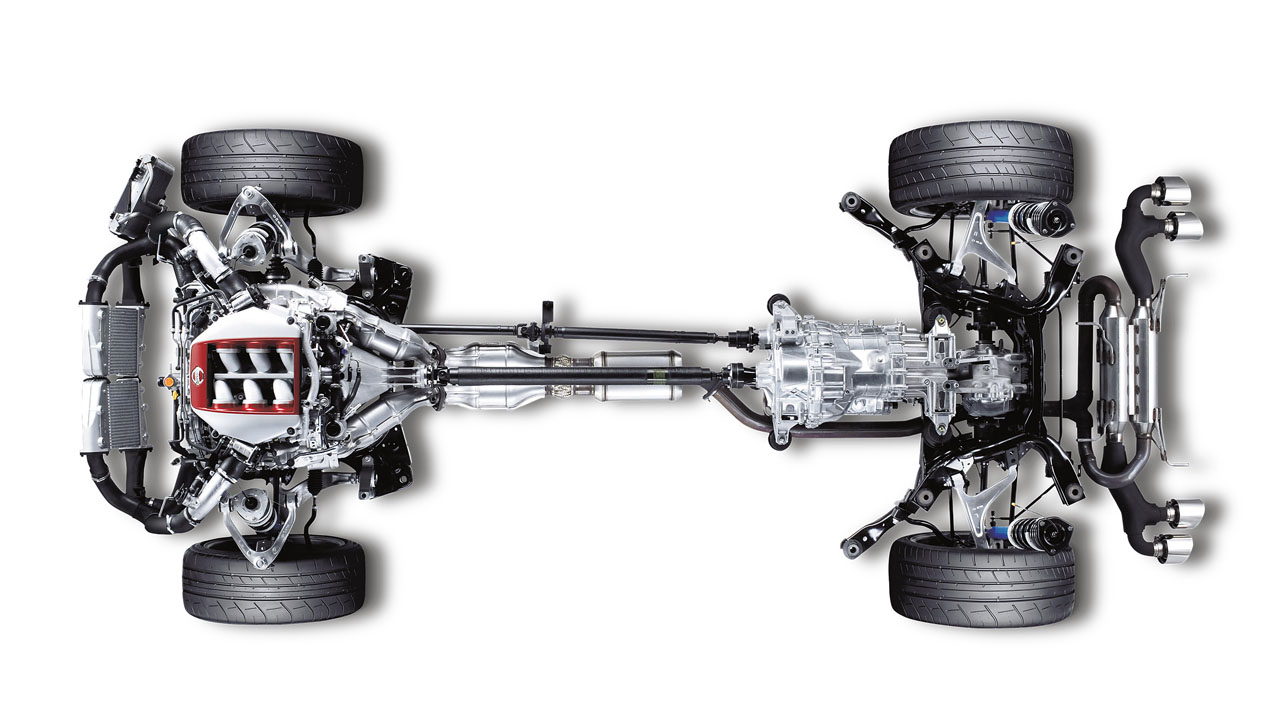 UNCONVENTIONAL WISDOM

3.8-liter Twin-turbocharged V6 Engine:
Press the accelerator and you feel more than raw power. The 545-hp twin-turbo V6 has massive strength, but it's highly refined, even earning a ULEV-II emissions rating. Rather than traditional cast-iron liners, each cylinder features a unique plasma coating with an independent intake system for each bank of cylinders. The powerful twin turbo takes advantage of a Premium Midship (PM) design for balance, where much of the engine sits back in the chassis. Uniquely brilliant, built to perform.

Premium Midship Platform:
By using a powerful twin-turbo V6 rather than a larger and heavier V8 or V12, the Nissan GT-R® exploits its PM design for ultimate balance. In the PM design, much of the engine sits well back in the chassis behind the front axle—for crisper turn-in, quick steering response and overall balance. The lighter, more compact engine also pays dividends in performance and other interior room.

Handcrafted Engine:
Every GT-R® engine is hand-assembled by a single technician – one of only eight allowed the honor – in a dust-free, temperature-controlled clean room. Once complete, the engine is tested. It goes through 44 minutes of bench testing and break in, where the engine is redlined for 10 solid minutes. When the entire GT-R® is built, it is put through its paces on the Tochigi Test track.

Master Driver:
From the beginning, we knew GT-R® was going to redefine the breed in terms of performance, refinement and capabilities. So we brought together the AS Class drivers—the top development drivers at Nissan—to create a vehicle that would excel not just at one racetrack, in one kind of weather, or when driven by one master driver: this supercar would have to be for "anytime, anywhere," [*] and be as rewarding to a novice enthusiast as it would to a veteran racer.

Suspension:
Handling duties are managed by a sophisticated 4-wheel independent suspension system mounted to high-precision 6-point front and rear subframes. A special Bilstein® DampTronic® driver-adjustable shock absorber system utilizes multiple vehicle information systems to provide appropriate damping forces and a high level of control for a variety of driving situations.

ATTESA E-TS® All-Wheel Drive:
Instead of the traditional 50/50 torque split between front and rear axles, the electronically controlled All-Wheel Drive system provides nearly all of the available torque to the rear wheels, and can send up to 50% of torque to the front wheels. This provides the steering feel and response of a rear-wheel vehicle, while giving the added confidence that only AWD can offer.

Dual Clutch 6-speed Transmission:
Two clutches, no clutch pedal. The GT-R® 6-speed sequential dual-clutch transmission shifts as quickly as 0.15 seconds when in R-Mode. Inside are separate clutches for the odd and even gears. When in an odd-numbered gear, the adjacent even-numbered gear is ''pre-selected,'' ready to make the shift immediately. Then, to achieve ideal front-to-rear weight distribution, the GT-R® clutches, transmission and transfer case are mounted in the rear of the chassis, creating the world's first independent rear transaxle for an All-Wheel Drive vehicle.

Nissan/Brembo® Braking System:
To complement its incredible horsepower and torque, the GT-R® features awe-inspiring braking power. The brakes feature 6-piston front and 4-piston rear calipers for stronger, more equal clamping power – something you'd expect to see on an all-out competition machine. For extreme rigidity with light weight, the caliper is machined from a single one-piece "monoblock" of aluminum.
2016 Nissan GT-R
PERFORMANCE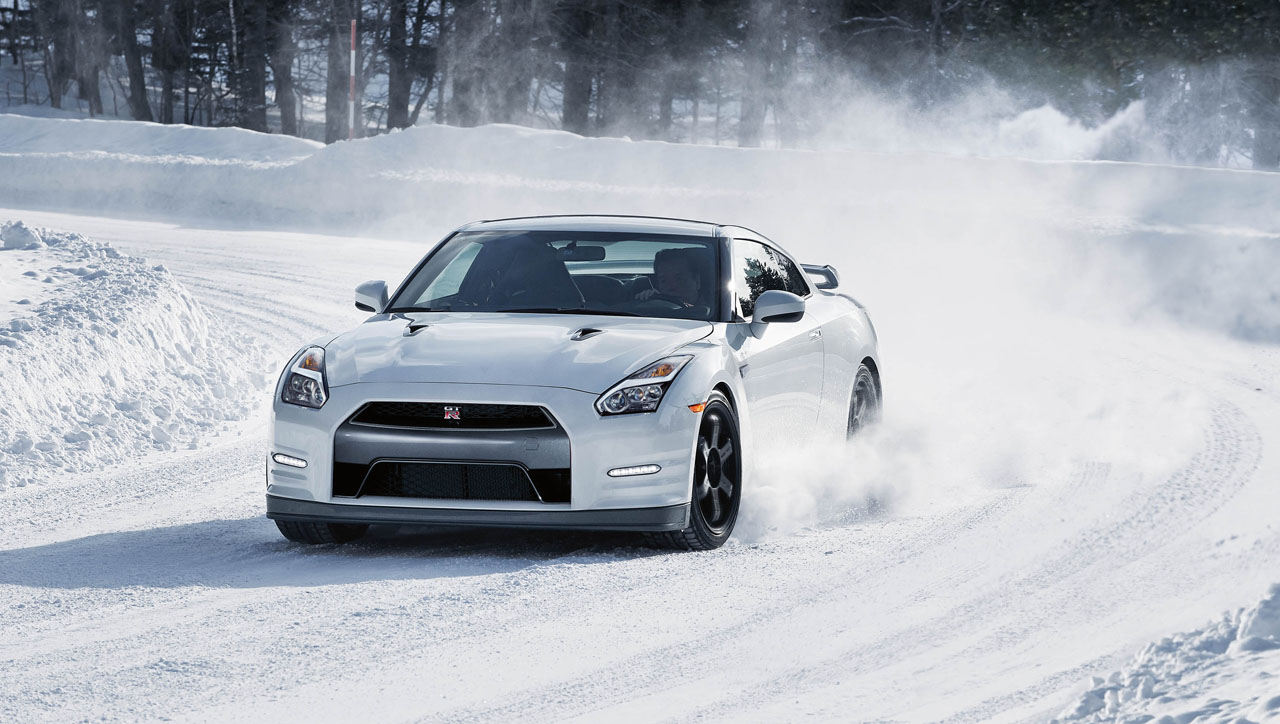 UNCONVENTIONAL WISDOM - BORN ON THE RACETRACK - Outstanding Performance Meets a High Level of Sophistication

The 2016 GT-R's multi-dimensional performance means drivers can enjoy the full depth of the vehicle's capabilities whether navigating corners of a winding mountain road, cruising at highway speeds or in an urban environment.

Consistent tire contact is achieved by optimizing control of the shock absorber valves, as well as use of tuned front stabilizer spring rates and bush links, which helps enhance road holding capability, resulting in a poised, confident ride and outstanding traction on rough roads.

The reduction in minute vibrations and road noise helps provide a more relaxing, comfortable ride. An additional benefit is improved straight-line stability, with fewer small steering corrections needed to maintain trajectory during highway driving.

Every 2016 GT-R features a special Bilstein® DampTronic driver adjustable shock absorber system that utilizes multiple vehicle information systems to provide appropriate damping forces and high level of control for a variety of driving situations. The DampTronic system features three driver selectable settings - Normal, Comfort, for maximum suspension compliance, or R. The same three-stage adjustability is also available for the VDC system and transmission shift operation.

The GT-R's steering is tuned to provide reduced the effort for in-town maneuvers, while maintaining GT-R's exceptional feedback during highway driving. The steering system is a vehicle speed-sensitive power rack-and-pinion design with aluminum steering rack, four-point mounting and stiff insulators.

Stopping power is provided by Brembo® monoblock six-piston front- and four-piston rear calipers with 15.35-inch front and 15.0-inch rear Brembo® full-floating, cross-drilled two-piece rotors and low-steel, high-stiffness brake pads that minimize fade and provide intense stopping performance. The calipers utilize race car-style radial mounting to minimize caliper flex during extreme braking.

The GT-R's rigid forged aluminum 20-inch wheels, manufactured by RAYS®, feature knurling inside the wheels to help keep the tires from slipping around the wheels under heavy acceleration or braking. GT-R Premium models receive a new 20 spoke design for 2016 and feature a premium dark (near black) finish, which provides a high quality, high-performance look. The Black Edition offers a special metallic black six-spoke RAYS® forged lightweight wheel design.

The tires are Dunlop® SP Sport Maxx GT 600 DSST CTT ultra high performance run-flat nitrogen-filled tires designed to match the suspension characteristics. The tires utilize stiff sidewalls to reduce deformation, improving steering response under hard cornering. Standard tire sizes are 255/40ZRF20 front and 285/35ZRF20 rear. Optional Dunlop® SP 7010 all-season run-flat tires are again offered as part of the Cold Weather Package (Premium model only).
2016 Nissan GT-R
SAFETY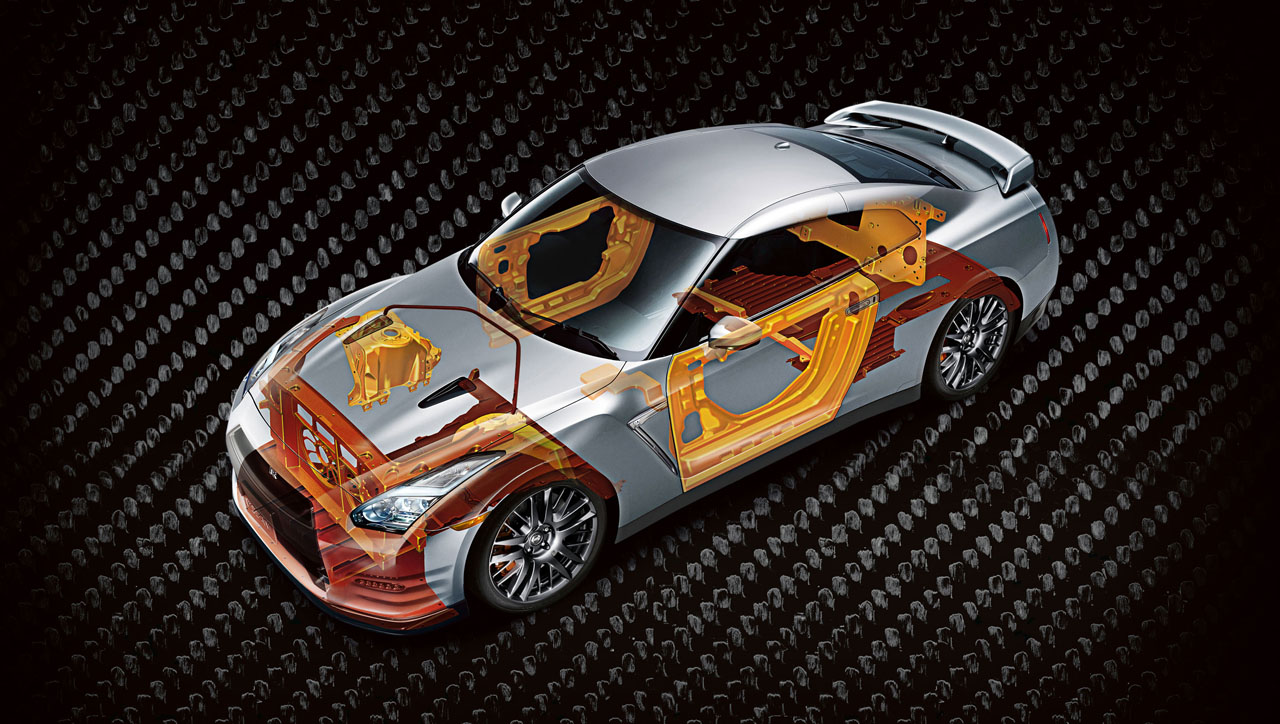 Serious about safety. Like every Nissan vehicle, GT-R® comes equipped with a suite of standard safety, driving, and convenience features designed to inspire confidence behind the wheel, and help make every ride better, safer, and more enjoyable.

RearView Monitor:
Engage reverse, and a camera mounted discreetly on the rear of the vehicle shows you what's directly behind you, on the dash-mounted screen in front of you. The system includes a wide 180º view, parking is a quick and easy affair.

Automatic On/Off Headlights:
Automatic On/Off Headlights respond to light conditions outside, turning on or off when necessary, and leaving you to concentrate on the road ahead.

Tire Pressure Monitoring System (TPMS):
When it comes to tire pressure, TPMS takes away the guesswork. Using an icon on your dash, the system notifies you when tires aren't properly inflated.

Electronic Traction Control System (TCS):
All the power in the world is useless if you can't get any grip. So when TCS senses drive-wheel spin, it responds by helping reduce throttle which helps you both regain grip and maintain control.

Advanced Vehicle Dynamic Control (VDC):
Most stability control systems cut power or apply the brakes when they sense loss of control. That's fine for the road, but slow going on the track. While cornering with the advanced VDC in R-Mode, it actually sends more power to the appropriate wheels when it senses oversteer or understeer.

Anti-lock Braking System (ABS) and Electronic Brake force Distribution (EBD):
In sudden-braking situations, ABS pumps the brakes quickly to help prevent wheel lockup and help you maintain control, while EBD monitors weight distribution and adjusts rear brake force to compensate for added weight from passengers, or cargo.
2016 Nissan GT-R
TECHNOLOGY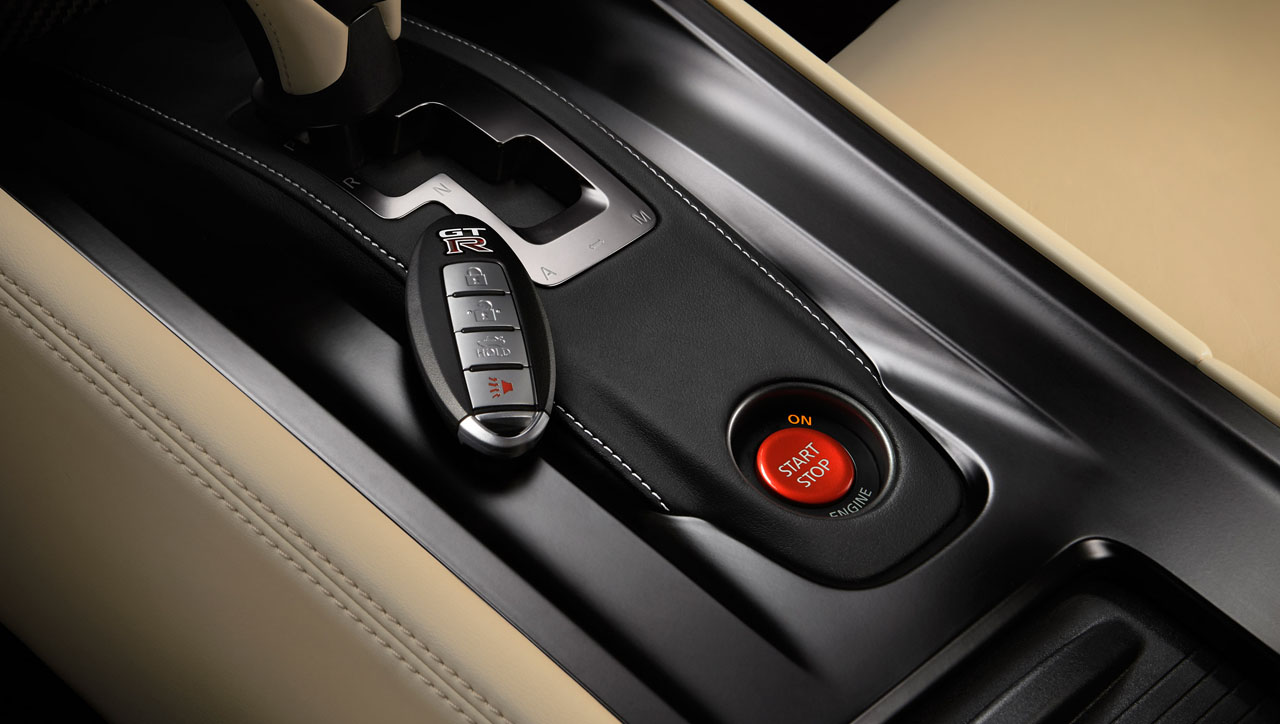 ANYONE, ANYTIME, ANYWHERE. REDEFINING THE SUPERCAR

Custom Performance:
The 3 Mode system is what makes GT-R® so remarkably versatile, allowing you to adjust transmission, suspension, and VDC [*] settings on the fly. Need maximum performance? Switch into R-Mode. Throw it into Normal Mode for everyday driving, and Special Mode for long distances and slippery surfaces.

Bose® Audio System with Active Noise Control:
The 11-speaker Bose® audio system works with the performance features of the GT-R®. The aluminum speaker mounts in the doors give the body rigidity, which has nothing to do with music and everything to do with performance. In the back, two subwoofers between the seats were designed to use the trunk as a giant bass enclosure. New Active Noise Control technology uses a microphone in the ceiling to identify undesirable low-frequency engine sounds and neutralizes them with sound waves of the opposite phase. The result – a quieter driving experience which still preserves the invigorating sounds of engine performance.

issan Hard Drive Navigation System:
With Nissan GT-R®'s touch-screen navigation system with voice recognition and a high-resolution screen, the world is at your command. It features a hard drive-based system for quick response, while NavTraffic advisories in real time help keep you ahead of the crowd. You can even keep track of the weather with NavWeather.

RearView Monitor:
With the RearView Monitor, when you back-up, a camera mounted discreetly on the rear of the vehicle helps you see what's directly behind you. The system also includes a convenient new, wide 180º view, so even parking is a quick and easy affair.

Bluetooth® Hands-free Phone System:
The Bluetooth® Hands-free Phone System activates via steering wheel-mounted controls. Now you can keep up connections no matter where the road takes you.

Nissan Intelligent Key:
The Nissan Intelligent Key® lets you tap a button on the door handle to lock and unlock your GT-R®, while your keys stay in your pocket or purse. With the standard Push Button Ignition feature, you just get in, push the button and go.
DISCLAIMERS:
Vehicle availability may vary by region.
contact dealer
for this model
Need Assistance?
Permian Nissan

has an expert staff of experienced automotive professionals who are available to answer your questions and address your auto needs in Sales, Finance, Service, and Parts. Meet Our Staff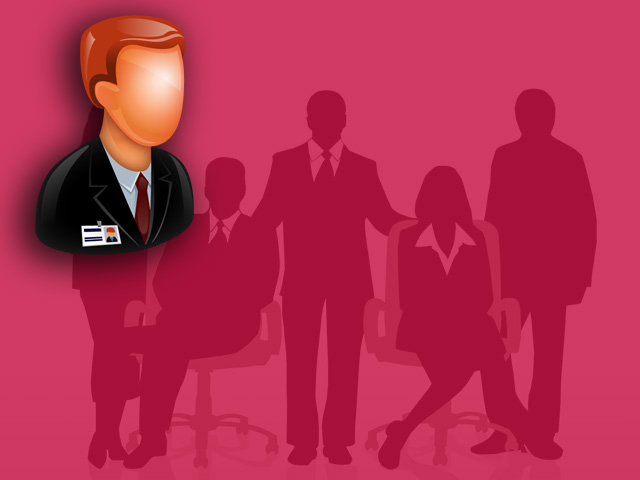 Mark Mares
Sales Management
Permian Nissan
Welcome to our website! Thank you for patronizing our dealership for all your automotive needs. We appreciate your business and look forward to serving you.
STAFF TOOLS:
--Read/Write Reviews