2016 Nissan 370Z Coupe
The 2016 Nissan 370Z -- A Design more than 40 years in the making. It's a living legend. With the emphasis on living. The iconic lines, low center of gravity, wide track, and short wheelbase give it that unmistakable, instantly recognizable profile. It's lower, wider, lighter, and more powerful than ever before. The 2016 370Z® is packed with performance: 332 horsepower, 14" disc brakes, paddle shifters, and an ideal 53/47 weight distribution. We've been refining the 370Z® for more than 40 years. Enjoy the results.
Number of Available TRIMS: 6
contact dealer
for this model
contact dealer
for this model
2016 Nissan 370Z Coupe
DESIGN / HIGHLIGHTS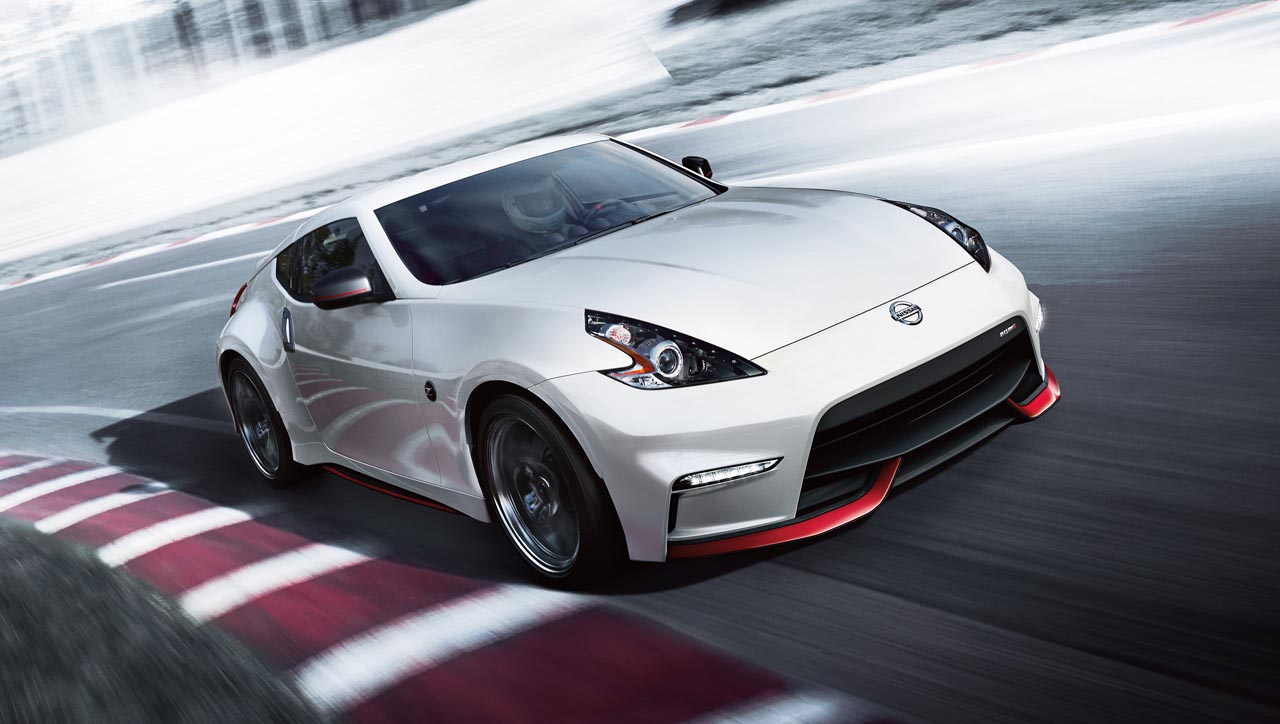 The iconic Nissan 370Z Coupe remains, in 2016, as one of the most vibrant and dynamic sports cars available in North America, as well as one of the best performance values – with a standard 332-horsepower 3.7-liter DOHC V6 engine, choice of 6-speed manual transmission or a 7-speed automatic transmission.

Following last year's addition of two new trim levels – Sport and Sport Tech – to the previously available 370Z and Touring grades, the Z® Coupe lineup again offers buyers a choice of four well-equipped models. There are no option packages.

For 2016, enhancements include the addition of a new Deep Blue Pearl exterior color and a new available Bose® audio system incorporating Active Noise Cancellation (ANC) and Active Sound Enhancement (ASE).

The ANC system generates canceling sound to help remove undesirable low frequency engine noise while preserving invigorating sounds of engine performance, providing a more ''pure'' sound. The system is also utilized on the famed Nissan GT-R. The ASE enhances natural engine sounds to help bolster the driver's acceleration experience.

Also available again in 2016 are the Nissan 370 NISMO and 370Z NISMO Tech, along with three 370Z Roadster models – 370Z Roadster, 370Z Touring Roadster and 370Z Touring Sport Roadster.
2016 Nissan 370Z Coupe
EXTERIOR
Dynamic Motion – in Design and Performance
Though it has been more than 45 years since the arrival of the original 240Z, its influence remains strong in the sports car world and in the design of the current generation 370Z Coupe. The iconic shape, formed by the combination of a short wheelbase, wide track, low center of gravity and fluid silhouette, is as instantly recognizable today as it was in 1970.

The aerodynamic exterior design incorporates intentional 240Z styling cues, a sleek aerodynamic shape, a ''dynamic motion'' feel with a dramatic cantilevered roof and a ''low visual gravity.'' The sleek profile is defined by its upswept quarter window design that is echoed by the dynamic upward curvature in the lower rocker panel and the sense of the taut sheet metal molding itself around the wheels and frame.

Another distinctive feature of the bold exterior design is the headlight/taillight treatment, which features a fierce ''boomerang'' shape. High Intensity Discharge (HID) bi-functional xenon headlights with auto on/off feature with LED daytime running lamps are standard.

The intense broad-shouldered rear shape is highlighted by the integration of the boomerang taillights and wide, flared rear fenders. Attention to detail and functionality is evident throughout the exterior design, including a flashing side marker lamp/emblem (turn signal lamp not available on base 370Z). The rear fascia is accented by a red rear center reflector. A front chin spoiler and rear spoiler are standard on Sport and Sport Tech grades.

The coefficient of drag is 0.30 for the 370Z and Touring models and 0.29 for the Sport and Sport Tech grades. The 370Z Sport and Sport Tech grades also feature zero front lift and zero rear lift, thanks to extensive aerodynamics efforts – including an ''inverse area'' front bumper design which a smooth flow of air to the sides of the vehicle, while the rear design maximizes the control of air flow from the roof to the rear hatch.

Underlying the aggressive appearance of the 370Z Coupe is a light, highly rigid structure designed for enhanced performance. The FM platform provides a refined foundation for the well-proportioned body – which includes a 100.4-inch wheelbase, 167.5-inch overall length, 72.6-inch width and 51.8-inch height – giving it a classic sports car look and feel.

The body features aluminum door panels, along with an all-aluminum hood and an aluminum hatch. A front suspension cradle, rear structural reinforcements and an underbody ''V-bar'' are designed to help reduce front and rear lateral bending (versus the previous generation design). The design also uses a carbon fiber composite radiator housing and strengthened rear fender and hatch areas.

The 2016 370Z is offered in eight exterior colors: Pearl White, Brilliant Silver, Magnetic Black, Solid Red, Gun Metallic, Black Cherry, Magma Red and new Deep Blue Pearl (replaces Midnight Blue).
2016 Nissan 370Z Coupe
INTERIOR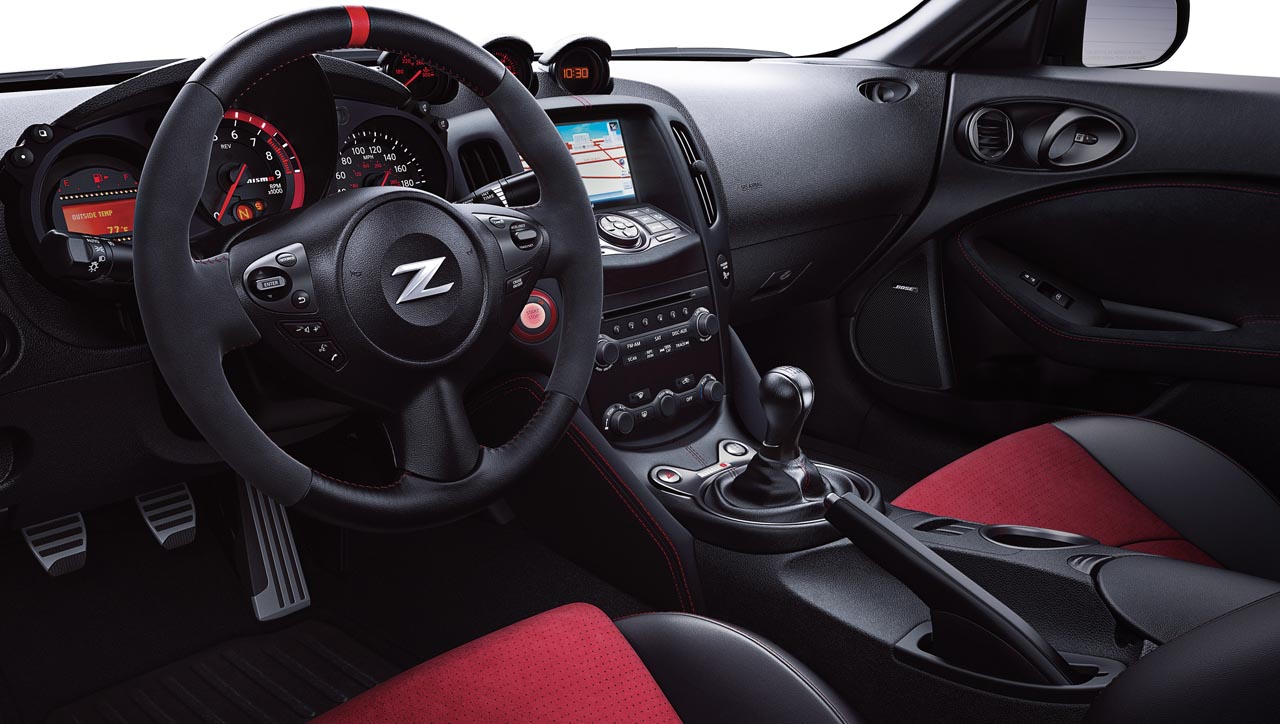 A Driver-Oriented Cockpit
The interior of the 2016 370Z Coupe continues the longstanding Z® tradition of enhancing driving pleasure. The traditional 2-seat layout is built around a deeply scooped instrument panel with a full-length center console separating the driver and passenger's seat. The design focus incorporates a ''layer concept,'' with an information layer, an operation layer and a holding layer.

The information layer provides good visibility with easy access to all key data. The gauges are attached to the steering column, so the driver doesn't have to choose between their preferred steering wheel position and visibility of the gauges. The large upper steering wheel opening in front of the gauges is designed to provide a good view of the readouts.

The instrument panel retains the traditional 3-pod cluster with oil temperature, voltmeter and clock, while the speedometer and tachometer include an ''initial sweep'' function, coming alive when the Z® is first started.

The operation layer includes the steering wheel, shifter and switchgear. The steering wheel is an ''oval'' 3-spoke design, which offers baseball-style stitching and large thumb grips and palm rest areas for improved feel on long drives. The surface of the leather-wrapped wheel is ''shaved'' to provide a more kidney-like shape to better fit in the hand.

The manual transmission shifter is padded in different areas to improve the accuracy of diagonal shifts and to feel softer in the hand for forward and backward motions.

The holding layer includes the seats, kneepads and door trim support. The driver's seat is uniquely different from the passenger's seat, with lower seat cushion cutouts on the sides where the thighs rest – allowing the driver to push on the pedals without the seat fighting them. The seat frame is constructed to help hold the driver in place during cornering. Both the driver and passenger's seats are structured with an anti-slip material in the main seating surface.

The sporty woven cloth seats feature standard 8-way driver's/4-way passenger manual adjustments, with heated 4-way power-adjustable synthetic suede and leather-appointed sport seats standard with the Touring model. Adjustable front seat Active Head Restraints are also standard.

The door armrests have been designed to help provide extra support when cornering and the kneepads are integrated to help the driver maintain the proper position while cornering.

Standard interior comfort and convenience features include Nissan Intelligent Key® with Push Button Start, power windows with one-touch auto up/down feature, power door locks with auto-lock feature, a center console box with a non-intrusive cover design, automatic climate control, rear window defroster with timer, two 12-volt power outlets, three cupholders, dual overhead map lights, Bluetooth® Hands-free Phone System and a AM/FM/CD/AUX 4-speaker audio system with illuminated steering wheel-mounted controls.
2016 Nissan 370Z Coupe
PERFORMANCE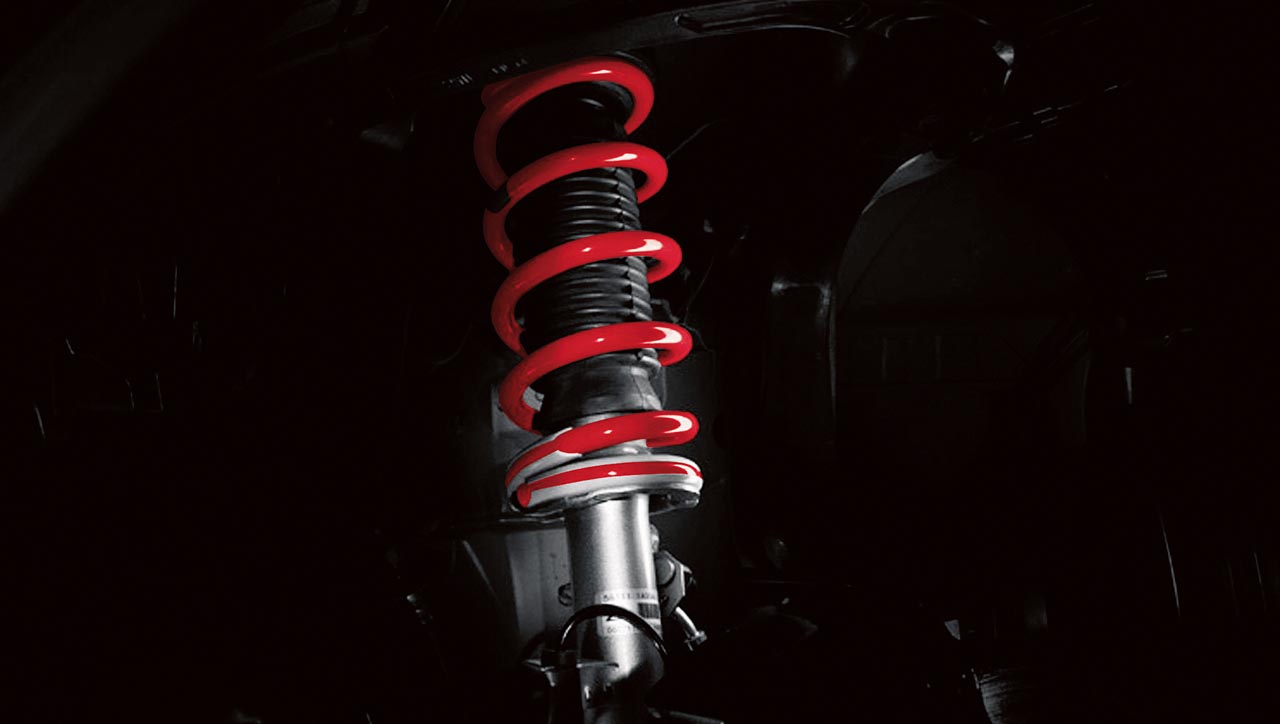 IT'S NOT A CAR, IT'S AN EXPERIENCE

The Pure Performance of a 332-horsepower V6
Along with its iconic style and full-feature cockpit, the 370Z Coupe once again delivers exhilarating performance. The standard 3.7-liter VQ37VHR engine with VVEL (Variable Valve Event and Lift) is rated at 332 horsepower @ 7,000 rpm and 270 lb-ft of torque @ 5,200 rpm.

Key to the outstanding performance is the VVEL system, which is able to optimize intake valve open/close movements, allowing the needed air to be sent promptly to the combustion chamber at the precisely optimized time.

Since the VVEL system can adjust to open the valves slightly, it improves fuel efficiency by reducing camshaft friction and fuel waste. It also provides cleaner emissions by allowing for quicker warm-up of the catalyst and by stabilizing combustion when the engine is cool.

The engine is backed by a choice of two advanced transmissions, both designed to improve driver performance. The close-ratio 6-speed manual includes an available synchronized downshift rev matching system (Sport and Sport Tech models), which allows drivers of any skill level to experience professional-like gearshift performance. The SynchroRev Match® function automatically controls and adjusts engine speed when shifting to the exact speed of the next gear position, essentially ''blipping'' the throttle to smooth out any up/down shifts.

This not only allows the driver to focus more on braking and steering, it improves the smoothness of gear shifts by reducing the typical ''shock'' when the clutch is engaged. The system can be deactivated with a button next to the shifter for drivers who prefer to shift on their own. The SynchroRev Match® system is offered as part of the optional Sport Package.

The available 7-speed automatic with Downshift Rev Matching (DRM) and Adaptive Shift Control (ASC) is designed to offer quick, manual-like shifting when operated in manual mode with a target time of 0.5 seconds between shifts. With optimized torque converter lock-up logic, the 7-speed automatic feels very direct, like a manual transmission. The 7-speed's wide gear ratios offer improved fuel efficiency (versus a 5-speed automatic), while the Adaptive Shift Control is designed to adjust to the driver's driving style. Paddle shifters are standard on Touring, Sport and Sport Tech grades.
2016 Nissan 370Z Coupe
SAFETY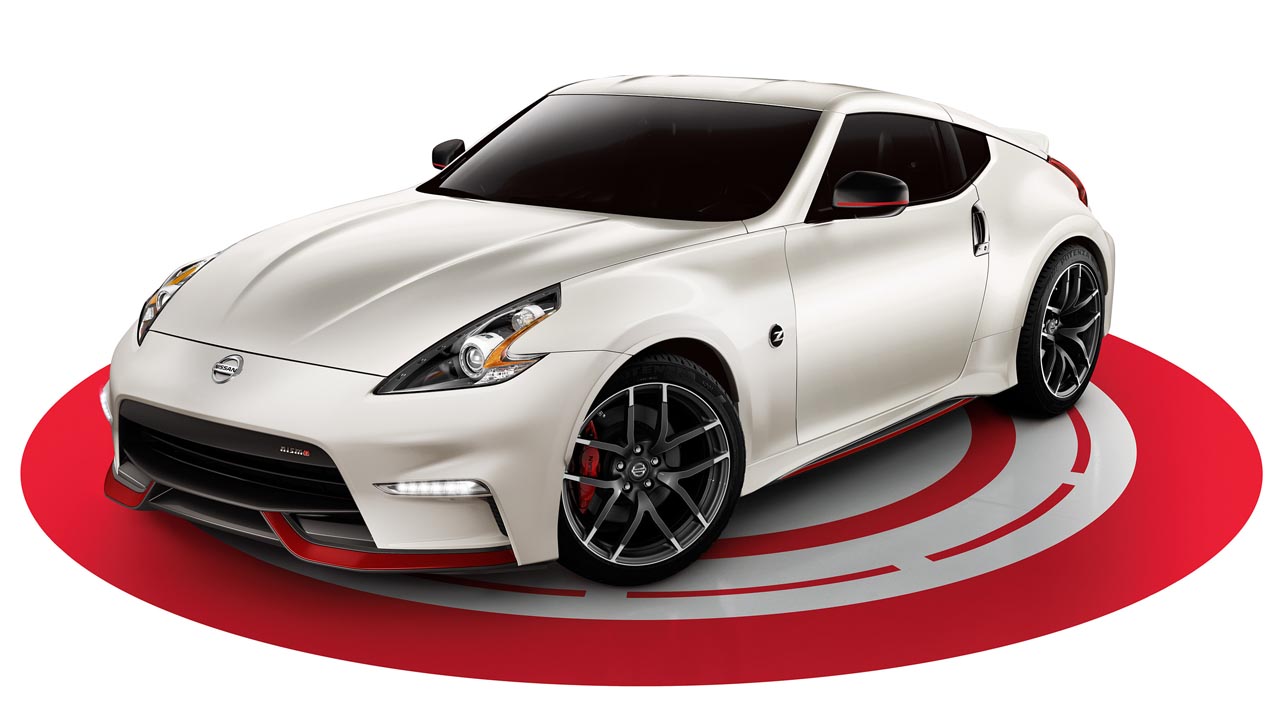 HIGH-PERFORMANCE PROTECTION
Like every Nissan vehicle, the 370Z® comes equipped with a suite of standard safety, driving, and convenience features designed to inspire confidence behind the wheel, and help make every ride better, safer, and more enjoyable.

Tire Pressure Monitoring System (TPMS):
When it comes to tire pressure, TPMS takes away the guesswork. Using an icon on your dash, the system notifies you when tires aren't properly inflated.

RearView Monitor:
Engage reverse, and the available RearView Monitor is there to assist you. A camera on the rear of the vehicle shows you what's directly behind you, on the dash-mounted screen in front of you. Because it's nice to have a little back-up when you're backing up.

Automatic On/Off Headlights:
Automatic On/Off Headlights respond to light conditions outside, turning on or off when necessary, and leaving you to concentrate on the road ahead.
2016 Nissan 370Z Coupe
TECHNOLOGY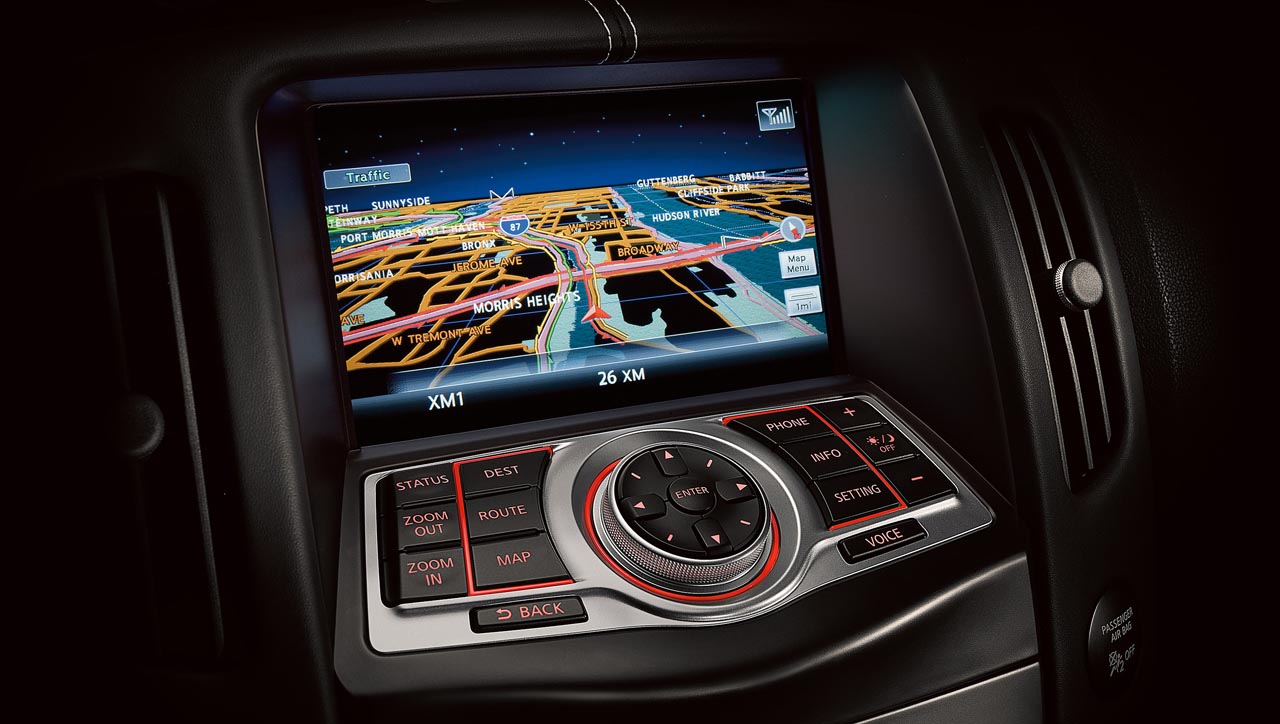 HI-TECH TOOLKIT

iPod® Integration:
Plug your iPod® into the standard USB input and you can control its functions through the audio system or touch-screen monitor, plus get song readouts on the digital display. You can also play digital music files from a USB flash drive or other compatible storage device—and even watch movies on the LCD screen while your 370Z® is parked.

NavTraffic:
Navigate through congested areas easier with the available touch-screen, voice-activated Nissan Hard Drive Navigation System. Its advanced NavTraffic feature displays color-coded, real-time traffic advisories to help you steer clear of the gridlock.

NavWeather:
Windows up or down? It's easy to decide with available NavWeather. The NavWeather service advises you of severe weather and potentially slippery roads that could affect your drive, as well as National Weather Service warnings and 3-day weather forecasts.

Bose® Audio System:
Because even the most dedicated enthusiast might want to listen to something other than the dual-exhaust, the 370Z® features an available Bose® audio system [*] that is custom-engineered for the unique shape of its interior. And since it's also capable of playing MP3/WMA CDs and receiving SiriusXM Satellite Radio [*], you can have the perfect soundtrack for any driving adventure.

Active Noise Cancellation (ANC)/Active Sound Enhancement (ASE)
Working through the available Bose® audio system[*] speakers, Active Sound Enhancement (ASE) brings the power of the 370Z®—those growling engine sounds—directly into the cabin. Meanwhile, using strategically placed microphones in the cabin, Active Noise Cancellation (ANC) can identify and reduce unwanted low frequency sounds.

RearView Monitor:
The available RearView Monitor uses a discreet color camera on the back of your vehicle to help you see what's directly behind you via the Information Center monitor. On-screen guidelines move along with steering input.

Nissan Intelligent Key:
Never take your keys out of your pocket or bag again. Nissan Intelligent Key® with Push Button Ignition is so intuitive, it senses your approach to the car and allows you to unlock the door by just tapping a button on the handle. Once inside, start the engine without ever putting a key in the ignition.
DISCLAIMERS:
2016 EPA Fuel Economy Estimates 18 City, 26 Highway, Manual Transmission models (19 City, 26 Highway, Automatic Transmission models). Actual mileage may vary with driving conditions. Destination and handling $835.
contact dealer
for this model
Need Assistance?
Permian Nissan

has an expert staff of experienced automotive professionals who are available to answer your questions and address your auto needs in Sales, Finance, Service, and Parts. Meet Our Staff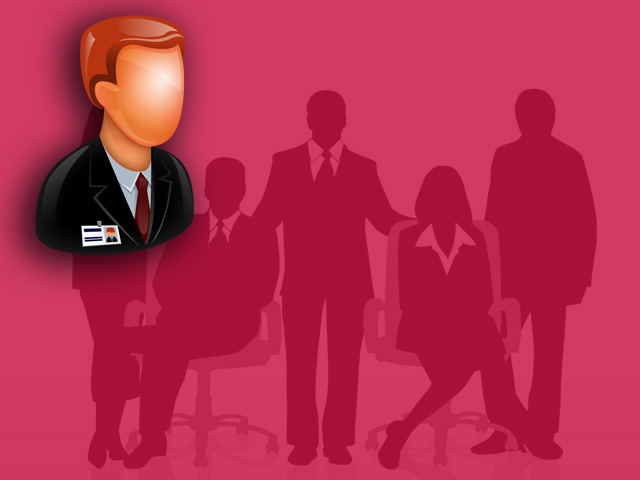 Billy Kelley
General Sales Manager
Permian Nissan
Welcome to our website! Thank you for patronizing our dealership for all your automotive needs. We appreciate your business and look forward to serving you.
STAFF TOOLS:
--Recommended Products
--Recommended Videos
--Staff Personal Videos
--Read/Write Reviews